Top 20 Summer Nail Designs (Part 1)
While having an eye-catching manicure is a great idea all year round, there's something about summer that makes you feel more adventurous. Whether it's embracing ultra-bright colors, fresh new textures, stylish shapes, or daring designs, now's the time to shake it up. Keep reading to discover easy ways to update your signature style, as well as this season's most on-trend summer nail design ideas to take your manicure to the next level.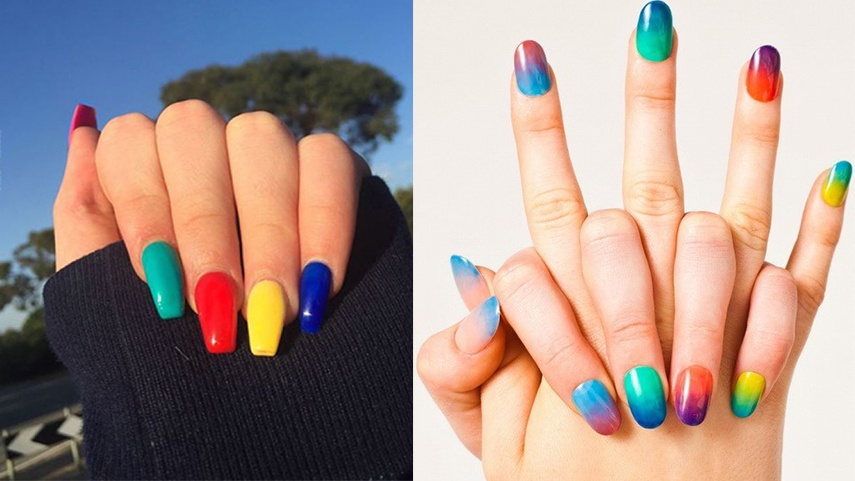 1. Summer Nail Colors
This is the season to go as bright, warm, and tropical as the weather! Create a fruity cocktail of bold shades – think pink, green, red, yellow, and blue. When summer arrives, the rules go out the window, and it's time to show off your creativity in manicure form. Plus, there are no gloves to hide behind – so your nails can get all the attention they deserve!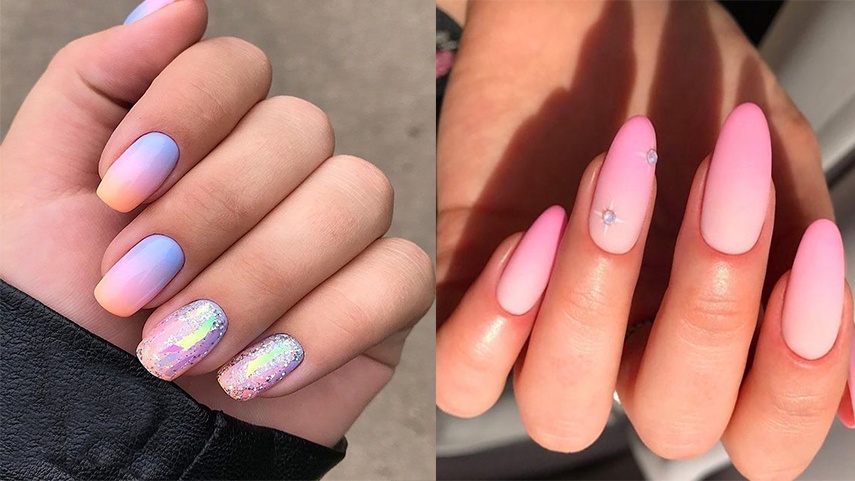 2. Summer Nail Designs
Not only should your color choice get more creative in summer, but the season is the perfect opportunity to show off different designs too. You can mix it up by wearing multiple different types on the same hand. For a flattering look, choose the same basic color palette like sunset hues and go for different finishes like ombré mixed with glitter. Geometric shapes also look great when contrasted with polka dots on a feature nail. The only limit is your imagination.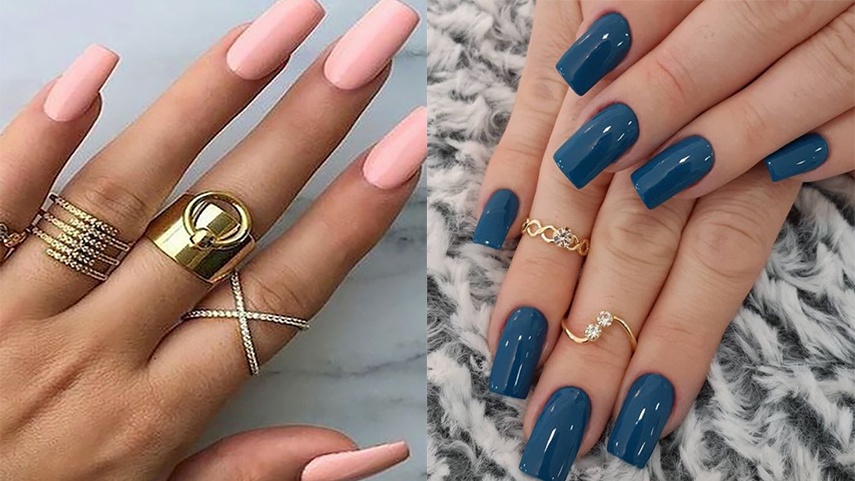 3. Nail Trends
While summer offers plenty of opportunities to experiment with your nails, one of the biggest trends is a simple look. Peachy apricot tones are a summer staple every year, and it's easy to see why. This hue is universally flattering on every skin tone. It also goes well with a full spectrum of other colors, from navy to pink and white. It's feminine and understated while still being playful, and it looks gorgeous paired with gold and rose-gold jewelry – another massive trend for summer.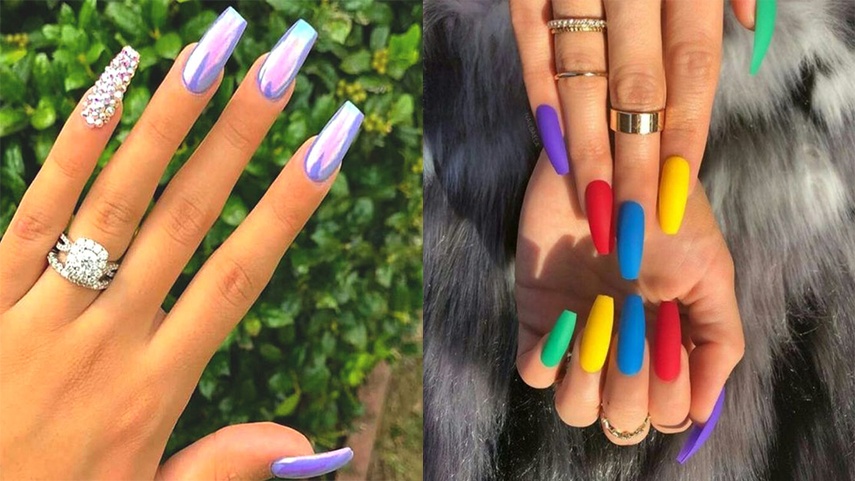 4. Coffin Nails
The coffin nail shape, also known as ballerina style, is what it sounds like: lengthy acrylics with a tapered, squared-off edge that looks like a coffin or ballet shoe. This nail shape has a lot of attitude and also gives you plenty of space to play with color, design, and decoration. You can take them to the next level with holographic foiling, ombré coloring, beads, and jewels. These are the nails you get if you want to make a statement – so it's not a shock that coffin nails are a favorite of Instagram stars and influencers.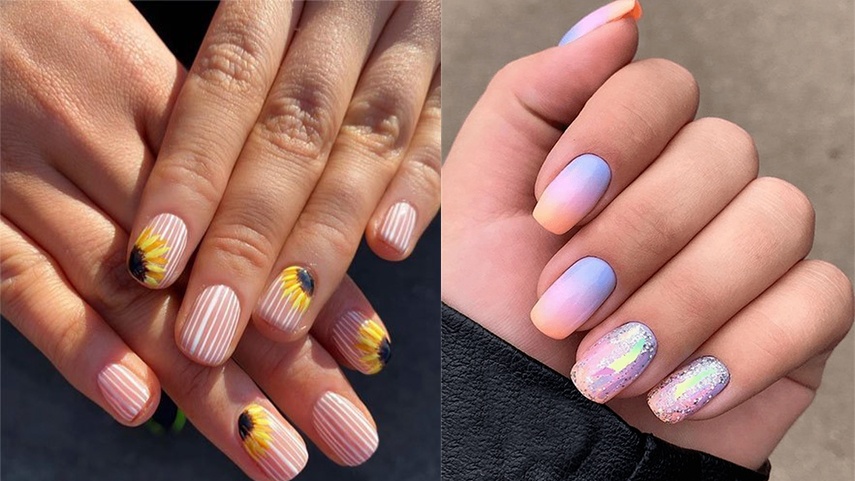 5. Round Nails
For a more understated vibe, the classic round shape is also on-trend for summer. A catwalk favorite, this chic and straightforward nail shape is very versatile. Round nails can attract attention when painted with a deep or bold color; alternatively, they can be the height of sophistication when paired with a nude polish. Pared-back and low-maintenance, round nails are a great choice if your style is classically elegant or a little androgynous.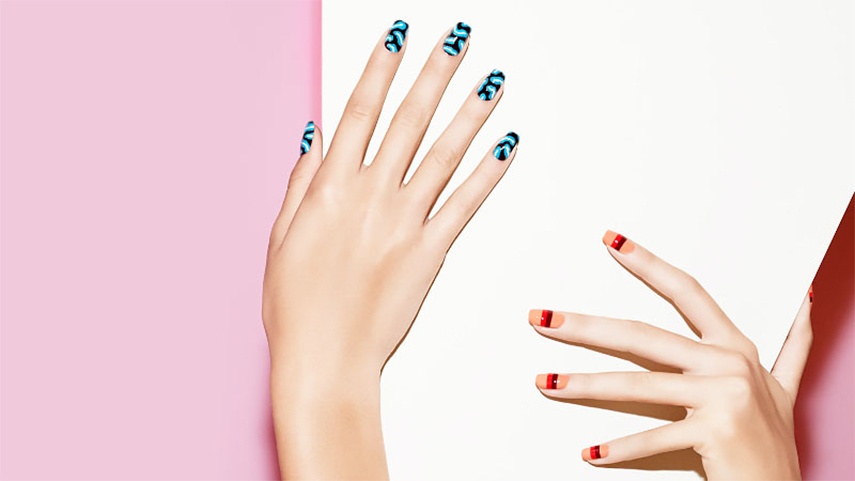 6. Square Nails
Square nails are a great choice if you have naturally narrow and flat nail beds; they will make your fingertips look wider. They're also considered the healthiest nail shape as there's less risk of your nails flaking, catching, or breaking. If you're opting for long acrylics, squared ends are also a popular style. This is because the squared tip again makes the nail look wider, balancing the length of the nails. Experiment with bright coral tones or pastel colors, they are a trendy choice this summer.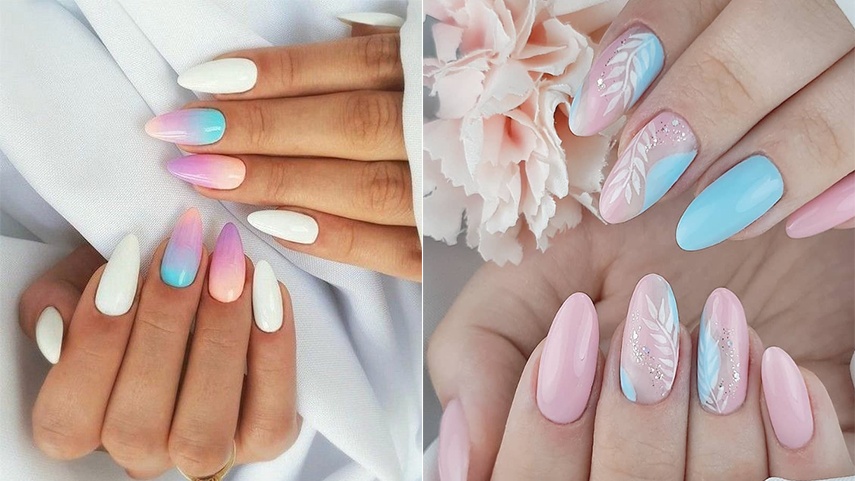 7. Almond Nails
Long and tapered to an elegant point, almond nails are a sexy and glamorous shape. They get their name from the shape of the almond nut. A universally flattering style, almond nails make fingers, and nail beds look slimmer and keep your talons quite strong. Because this nail shape requires some length to create, some opt for acrylics to get the almond look. Mix pastel ombre with the block color nails, for the playful and fun summer style.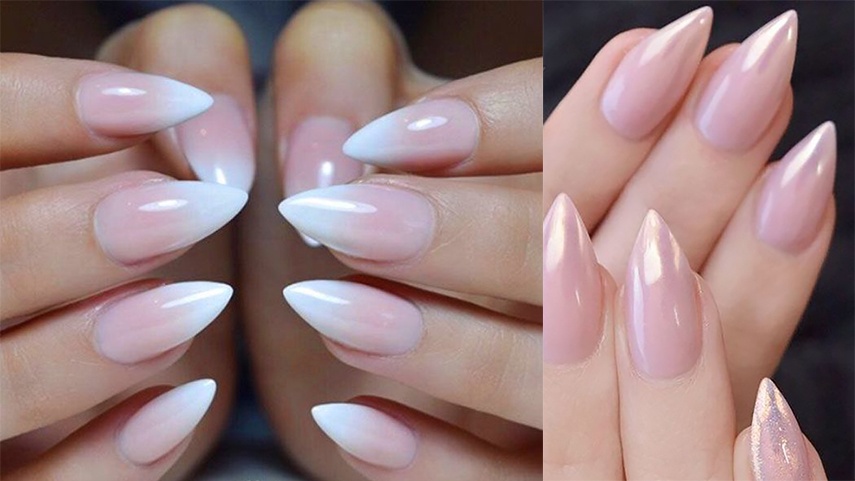 8. Mountain Peak Nails
One of the lesser-known nail shapes, mountain peaks, has become a big trend this year. Nails are kept to medium length and tapered to a small, fine point. The mountain peak shape follows a similar pattern to stiletto nails, but it doesn't require the fingernails to be as long. As a result, it's possible to get this shape with natural nails if yours are healthy and not prone to breakage. Mountain peaks look great with soft, subtle nail color to let the shape do all the talking.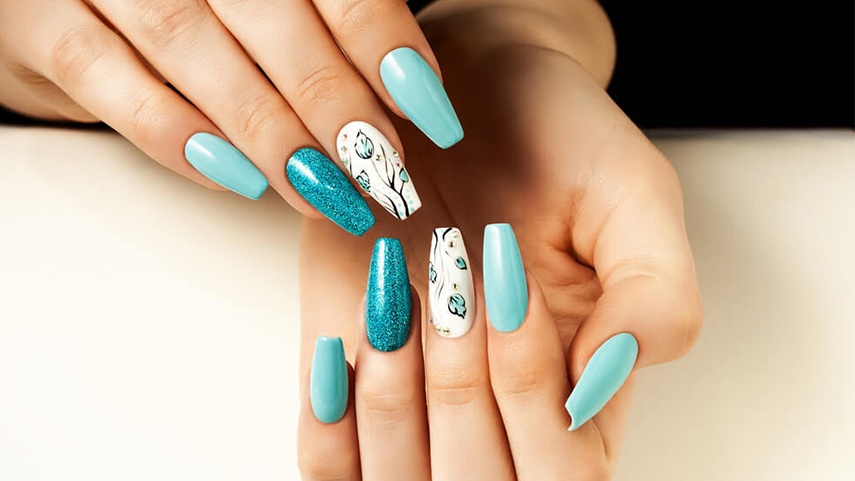 9. Summer Acrylic Nails
Acrylics are the fastest way to get the long nails you've always dreamed about. They're also a simple way to change the shape of your nails, and they don't require lamp curing like gels. The extra length and on-trend shapes you can get from acrylics are perfect for summer. Show off your talons with a white polish and a feature nail in a different finish, like holographic. However, you'll need to go to the salon regularly for in-fills and replacements. This may be more common in summer, as being outdoors and swimming can increase your risk of lifting or breaking the acrylics.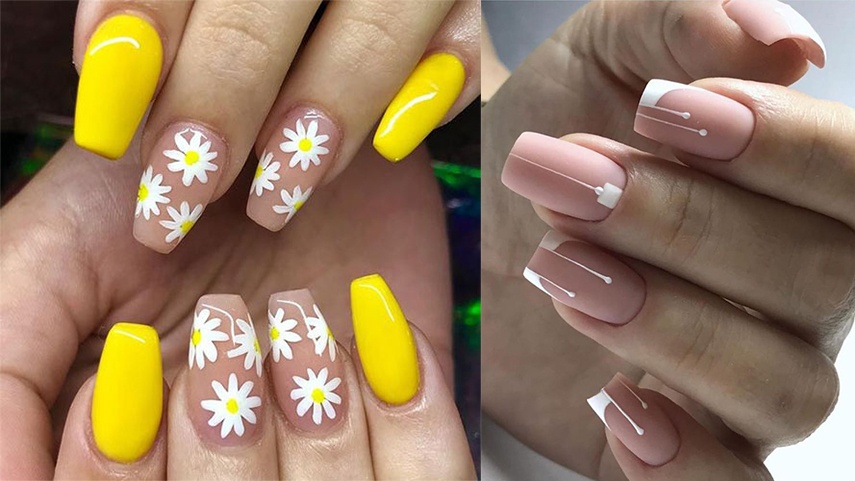 10. Summer Gel Nails
A gel manicure is an easy way to make your nail color and design last. Gel nails are also softer and more flexible than acrylics, so they have a more natural look. If you want to extend the length of your nails but don't want the upkeep of acrylics, a gel is a choice for you. Sticking with the natural theme, gel nails for summer look beautiful paired with pink or nude polish. Shake it up with different finishes like matte and gloss, and add cute details like glitter stripes. If you get sick of your gel color, you can paint over it with regular nail polish – as long as it's a darker color. But for the best result, go to a professional for a fresh manicure.
(Source content: thetrendspotter)
elodiethenaillounge.com